Page 98 - Absturzsicherung Produktliste ABS Safety
P. 98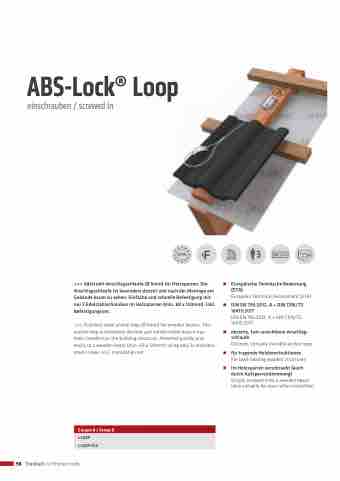 ABS-Lock® I+II
Sicherheit auf Knopfdruck - das ist das Geheimnis unserer Anschlageinrichtung ABS-Lock® I+II. Das System basiert auf 2 Elementen: Der ABS-Lock® I ist ein abnehmbarer Anschlagpunkt, der mit einem Knopfdruck eingesetzt und ebenso unkompliziert wieder abgenommen wird. Sobald die Sperrkugeln des Anschlag- punkts arretieren, hält er problemlos Belastungen von 2 Tonnen und mehr stand.
Der ABS-Lock® II ist die Hülse für den Anschlagpunkt und ein ech- tes Multitalent. Ob in Holz, Stahl oder Beton, an der Wand, über dem Kopf oder in abgehängten Decken – der ABS-Lock® II kann dank einer großen Auswahl an Zubehör nahezu überall montiert werden. Und weil der Anschlagpunkt abnehmbar ist, stört er die Gebäudeästhetik nicht – und ist auch nie im Weg!
Safety at the touch of a button - that is the secret of our ABS- Lock® I+II anchorage system. This system is based on 2 compo- nents: The ABS-Lock® I is a detachable anchorage point which is simply installed at the touch of a button - and removed just as easily. Once the retainer ball bearings inside the anchorage point have locked into place, the device can withstand loads of up to
2 tons and more.
Our ABS-Lock® II is the matching sleeve to the anchorage point - a true multi-talented solution. For wood, steel and concrete, walls, overhead installation and suspended ceilings - our ABS-Lock® II can be installed virtually anywhere - thanks to our broad range of accessories. And because you can simply remove the anchorage point, it does not spoil the aesthetic look of your building - and also never gets in your way!