Page 86 - Absturzsicherung Produktliste ABS Safety
P. 86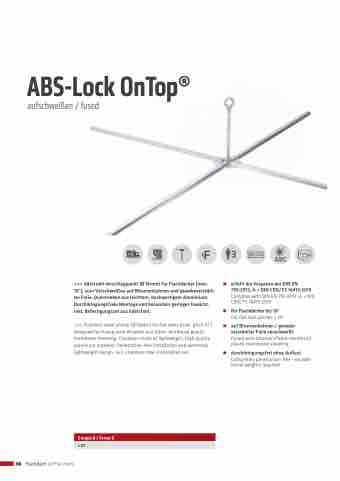 Absturzsicherung für Stahluntergründe
Fall protection on steel structures
Industriehallen und Fertigungsstraßen, Maschinen und Kranbah- nen, Metallkonstruktionen und Windkraftanlagen – die Einsatz- möglichkeiten von Anschlageinrichtungen für Stahluntergründe sind vielfältig. Fast ebenso groß ist die Zahl der Montagemöglich- keiten von Anschlagpunkten. Unsere Absturzsicherungen können eingeschraubt oder gekontert werden. Ganz nach Ihren Wünschen und Anforderungen!
Auch für Stahluntergründe bieten wir Ihnen verschiedene durchdringungsfreie Lösungen an – so bleiben die statischen Eigenschaften der Stahlträger unangetastet. Mit Spezialklemmen direkt am Träger befestigt oder mit Konterplatten um den Träger geklemmt lassen sich Anschlagpunkte in vielen Varianten mon- tieren. Auf diese Weise können auch Seilsicherungssysteme über lange Distanzen errichtet werden.
Industrial halls and production lines, machinery and crane ways, metal structures and wind turbines – there is a virtually endless array of possible applications for anchorage devices designed for steel surfaces. Almost as endless is the number of different ways in which our anchors can be installed. Our fall arrest systems can be simply screwed or bolted on and/or countered – according to your individual wishes and needs!
We also offer a variety of penetration-free solutions for steel surfaces - solutions that have no adverse effect on the static prop- erties of your girder. A large selection of different anchor models can be attached straight onto a girder using special clamps and/
or counter plates. This technique also allows you to set up lifeline systems over long distances.