Page 78 - Absturzsicherung Produktliste ABS Safety
P. 78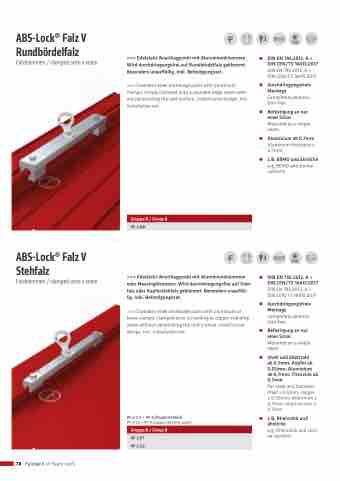 Absturzsicherung für Steildächer
Fall protection on pitched roofs
Wir versuchen immer aus einfachen Lösungen ein Maximum an Leistung herauszuholen. So sind beispielsweise unsere Sicher- heitsdachhaken grundsätzlich auf die Nutzung in alle Richtungen hin geprüft und bieten auch Sicherheit, wenn sich der Anwender oberhalb des Anschlagpunkts befindet. So kann er auf der gesam- ten Dachfläche geschützt arbeiten. Dass an unseren Sicherheits- dachhaken immer auch eine Leiter eingehängt werden kann, ist selbstverständlich.
Auch die Ästhetik des Gebäudes behalten wir im Auge: Unsere Si- cherheitsdachhaken sind in verschiedenen Farben erhältlich; und nahezu unsichtbar ist unsere Anschlagschlaufe ABS-Lock® Loop. Ganze Seilsicherungssysteme, die von beiden Dachhälften aus genutzt werden können, sind mit unseren Produkten ebenfalls kein Problem.
We always aim to achieve maximum performance using the sim- plest solutions. Our roof safety hooks, for example, have been test- ed for all directions of load and even secure users whilst they are working above the anchor. This allows them to work at any point on the roof surface whilst remaining secure at all times. Of course, our roof safety hooks also double up as ladder hooks.
We also keep an eye on the aesthetics of your building: Our roof safety hooks are available in a range of different colors whilst our ABS-Lock® Loop anchor loop is virtually invisible. Our range of products also allows you to easily setup a complete lifeline system which can be used from both sides of the roof.