Page 68 - Absturzsicherung Produktliste ABS Safety
P. 68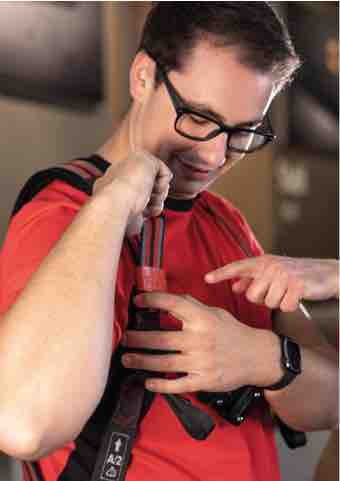 Absturzsicherung für Flachdächer
Fall protection on flat roofs
Absturzsicherungen, bei denen die Dachhaut nicht durchdrungen wird, sind unsere Spezialität. Gezielt für flache Dächer haben wir daher mit Auflast beschwerte Lösungen im Programm, die sich auch optimal in die Dachbegrünung integrieren lassen. Das schont die Dachhaut und sieht außerdem noch gut aus. Auch komplette Seilsicherungssysteme können auf diese Weise auf Gründächern installiert werden – die Gebäudeästhetik bleibt so nahezu unan- getastet.
Ein echter Clou sind unsere durchdringungsfreien Lösungen
für Bitumenbahnen und gewebeverstärkte Folie. Ausgewählte Anschlagpunkte werden einfach von oben auf der Dachhaut verschweißt. Besonders stolz sind wir auf unsere neu entwi- ckelten und durchdringungsfreien Anschlageinrichtungen, die
die Vorgaben des DIBt erfüllen und für die wir eine allgemeine bauaufsichtliche Zulassung haben: Der ABS-Lock OnTop Max wird auf Bitumen verschweißt und kann als Anschlagpunkt und als Zwischenhalter in Seilsicherungssystemen genutzt werden; der auflastbeschwerte ABS Weight OnTop Max kann darüber hinaus auch als End- und Eckpfosten genutzt werden, indem dieser mit einem zusätzlichen Stützrohr ausgestattet wird.
In Kombination können Sie also mit beiden Produkten ein komplettes Seilsicherungssystem errichten, ohne das Flachdach einmal öffnen zu müssen.
Fall protection solutions that do not penetrate your roof mem- brane are our speciality. We have designed a range of fall protec- tion systems specifically with flat roofs in mind - counterweighted systems that can be easily integrated into your roof greenery. These systems not only protect your roof membrane but also
look great. They can also be used to set up a complete horizontal lifeline system in a green roof environment - leaving your building aesthetics untouched.
A real highlight are our penetration-free solutions for bitumen and fabric-reinforced plastic membrane roofs. Our select fall protection anchors are simply fused onto the respective roof membrane sur- face from above. We are particularly proud of our newly-developed, penetration-free anchorage devices which fulfil the requirements stipulated by the German Institute for Construction Technology ("DIBt") and have been awarded national technical approval: Our ABS-Lock OnTop Max can be fused onto bitumen sheeting and used as either an anchorage point or an intermediate support in
a lifeline system; our counterweighted ABS Weight OnTop Max model can also be used as an end or corner post simply by adding a supporting tube.
Simply combine both products to erect a complete lifeline system without even having to open your roof up.