Page 58 - Absturzsicherung Produktliste ABS Safety
P. 58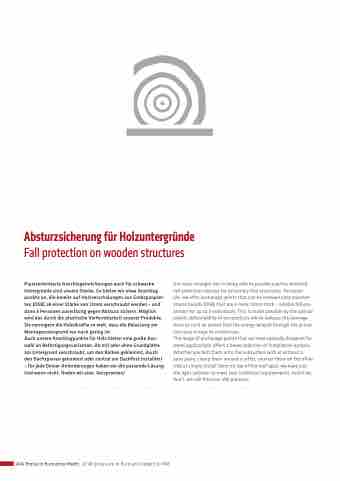 Absturzsicherung für Metallfalzprofile
Fall protection on metal seam roofs
   BEMO, Kliptec, Rheinzink, Snapfalz – unter den Metallfalzanbie- tern gibt es viele namhafte Hersteller. Für fast jeden Profiltyp ha- ben wir eine Anschlageinrichtung im Sortiment, die vollkommen durchdringungsfrei befestigt werden kann – und das mit geringem Aufwand.
Spezielle Profilklemmen sind das Herz unserer ABS-Lock-Falz- Produkte. Die Klemmen werden am geeigneten Falz verschraubt und halten im Ernstfall den enormen Belastungen eines Fallstur- zes problemlos stand. Je nach Produkt können so 1 bis 3 Personen zuverlässig gesichert ihren Dacharbeiten nachgehen. Dank der praktischen Klemmbefestigung bleibt das Dach auch während und nach der Montage dicht, da keine Durchdringung erforderlich ist.
BEMO, Kliptec, Rheinzink, Snapfalz - there are many well-known companies in the metal seam roof manufacturing industry. Our portfolio offers an anchorage device for virtually any type of seam profile - completely penetration-free fall protection systems that can be installed with minimum effort.
Special seam clamps are the core element of all our ABS-Lock Falz products. The clamps are bolted onto a suitable seam profile.
In the case of an emergency, these clamps are capable of with- standing the enormous load ensuing from a fall. Depending on the selected model, up to 3 individuals can be reliably secured whilst working high up on a roof. Thanks to the practical clamping mechanism, your roof will remain watertight both during and after installation as it is not necessary to penetrate your roof surface.