Page 36 - Absturzsicherung Produktliste ABS Safety
P. 36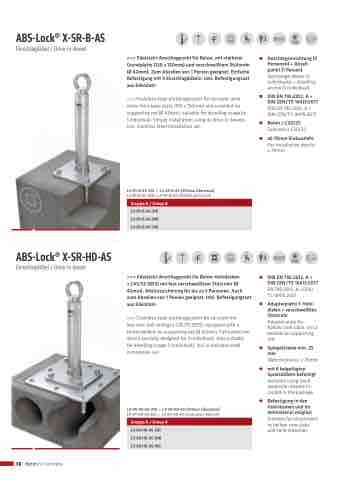 Absturzsicherung für Metalldächer
Fall protection on metal roofs
Anschlageinrichtungen auf Stahlblech mit einer Stärke von nur 0,45 Millimetern? Und das gleich für 3 Personen? Mit unseren Absturzsicherungen ist das kein Problem. Dank hochwertiger Edelstahlgrundplatten leiten unsere Sicherheitsprodukte die Fallkräfte optimal in die Dachhaut ab. Spezielle Kippdübel sorgen dabei für den nötigen Halt.
Um die Installation unserer Systeme noch leichter zu gestalten, haben wir für Sie zudem Lösungen entwickelt, die mit Blindnieten einfach von oben auf die Dachhaut genietet werden. Das erspart aufwändige Eingriffe in die Isolierschichten und Dämmung von Sandwichdächern. Auch diese Systeme können natürlich bei Bedarf in Seilsicherungssysteme integriert werden.
Fall protection systems on metal roof sheeting that is only 0.45mm thick? And for 3 individuals simultaneously? No big deal for our fall protection systems. Thanks to our high quality stainless steel base plates, our safety products are able to optimally conduct ensuing force through the roof membrane. The right grip is provided by special toggle bolts.
To further facilitate the installation process, we have also devel- oped a range of special fall protection solutions that are simply installed on top of the roof membrane using blind rivets. This saves having to carry out complex operations that penetrate your sandwich roof insulation layer. Where required, these systems can, of course, also be integrated into a horizontal lifeline system.