Page 3 - Absturzsicherung Produktliste ABS Safety
P. 3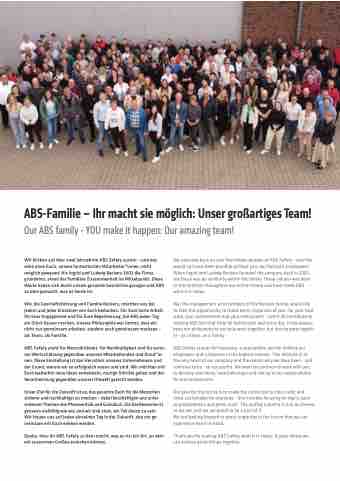 ABS Safety – Über 120 Profis, eine Familie
ABS Safety – over 120 professionals, one family
Bei ABS Safety denken viele an innovative, praxisfreundliche Ab- sturzsicherungen aus deutscher Entwicklung und Fertigung. Und es stimmt: Bei uns am Niederrhein wird mit Leidenschaft, Forscher- drang und einem abgeklärten Blick auf die Praxis stetig an neu- en Sicherheitsprodukten gearbeitet. Für uns ist dabei wichtig, das Thema berufliche Absturzsicherung ganzheitlich zu denken. Wir wollen einen unvergleichlichen Service bieten, mit originellen Eige- nentwicklungen Impulse setzen und mit unserer brandneuen Doku- mentations-App auch beim Thema Handwerk 4.0 eine Vorreiterrolle einnehmen. Dabei wagen wir gerne einen Blick über den Tellerrand hinaus.
ABS Safety, das ist aber auch eine große Familie. Damit meinen wir nicht nur die Familie Beckers, deren jüngste Generation heute bereits die Geschäftsführung, Produktentwicklung und Personalführung maßgeblich stützt. ABS Safety, das sind mehr als 120 engagierte Mitar- beiter und Auszubildende, die ihre ganze Tatkraft und Energie in unse- re Produkte und Dienstleistungen stecken. Und die sich darüber hinaus engagieren, um unser Unternehmen effizienter, umweltverträglicher und immer noch ein Stück besser zu machen. Die Kollegen und Kol- leginnen treiben unser Unternehmen in allen Abteilungen voran und sind der Grund dafür, dass bei ABS Safety keine Routine aufkommt. Deshalb sind wir uns sicher: Auch 2020 wird wieder ein spannendes Jahr. Bestreiten wir es gemeinsam!
For many people, when they hear ABS Safety they think of innovative, easy-to-use and practical fall arrest systems developed and manufac- tured in Germany. And they are absolutely right: At our base in the Low- er Rhine region, we are constantly working on new safety products and piling all our passion and our thirst for knowledge into these - whilst applying our experience to keeping things practical and simple. For us, it is important to use an integrated approach to professional fall arrest systems. We want to offer unrivalled service, make our mark through our original, in-house designs and play a pioneering role in the world of Industry 4.0 through the implementation of our brandnew documenta- tion app - and we are never afraid of thinking outside the box.
However, ABS Safety is and remains a big family, by which we do not merely mean the Beckers family - the youngest generation of which is already running the business and playing a huge contribution to our product development and personnel management divisions. ABS Safe- ty incorporates over 120 dedicated employees and trainees who put all their effort and energy into our products and services. And who actively do all they possibly can to make our company more efficient, more en- vironmentally friendly and just that little bit better. Throughout all our departments, our colleagues are driving our company ahead. They are the reason why working at ABS Safety is never a matter of routine. That is why we are absolutely convinced that 2020 is going to be yet another really exciting year. Let us embark upon the journey together!