Page 20 - Absturzsicherung Produktliste ABS Safety
P. 20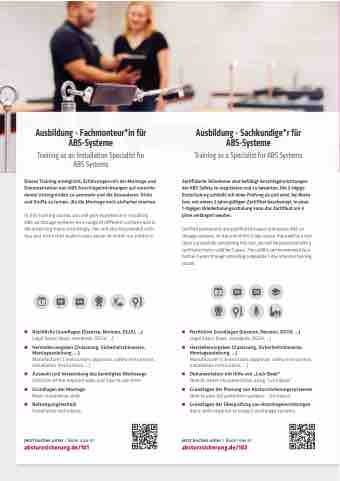 Absturzsicherung für Betonuntergründe
Fall protection on concrete structures
   Für Beton, Mauerwerk oder Stein haben wir eine Vielzahl an Anschlagpunkten im Programm. Sie sind fast ausschließlich
aus hochwertigem Edelstahl hergestellt, witterungsbeständig gekennzeichnet und werden grundsätzlich nach den aktuellen Normen geprüft. Ob mit Verbundmörtel oder Schwerlastankern befestigt, gekontert oder mit Spezialspreizdübeln einfach in den Beton eingeschlagen – zu jedem Ihrer Einsatzfelder bieten wir eine zuverlässige Absturzsicherung an. Auch Hohlräume, Naturstein oder Porenbeton stellen für unsere Produkte kein Problem dar. Anschlageinrichtungen von ABS Safety bieten variable Überstän- de und Gewindelängen. Mit speziellen Winkeln sind auch seitliche Montagen möglich. Viele unserer Anschlagpunkte können zudem mit Stützrohren ausgestattet werden. Auf diese Weise verstärkt, werden sie als Eckstützen und Endhalter in Seilsicherungssys- temen eingesetzt. Für jede Architektur finden Sie in unserem Sortiment die passende Sicherungslösung.
Our product range includes a variety of anchorage points for concrete, masonry and stone applications. These devices are made almost exclusively from high-strength stainless steel materials, feature weatherproof labels and are tested to the current stand- ards. Whether you are planning to install your device using special adhesive, to cement it into concrete, counter it, mount it using heavy-duty anchors or to simply hammer it into the concrete surface using special expansion dowels, we offer a reliable fall protection solution for all your applications. Our products can even easily cope with cavities, natural stone and porous concrete.
ABS Safety anchorage devices offer a range of different protrusions and thread lengths. Specially-designed brackets also allow lateral instal- lation. Many of our products can also be equipped with an optional sup- porting tube. Reinforced in this way, they can then be used as corner or end supports in a lifeline system. Whatever the type of architecture in question, our product portfolio offers just the perfect safety solution.