Page 164 - Absturzsicherung Produktliste ABS Safety
P. 164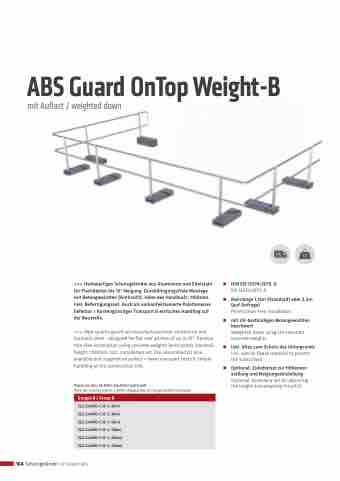 Zubehör
Accessories
Einkleben, verlängern, abdichten – mit dem Zubehör von ABS Safety sind Sie rundum versorgt. Eine stimmige Montageausrüs- tung anbieten zu können ist bei uns aber nicht nur eine Frage von Service, sondern Grundlage für ein umfassendes Sicherheitskon- zept. Denn auch die ausgeklügeltste Anschlageinrichtung bietet nur wenig Schutz, wenn sie nicht richtig am Untergrund befestigt wird.
Ein weiteres wichtiges Thema der Absturzsicherung ist die Dich- tigkeit des Daches. Immer dann, wenn ein Öffnen der Dachhaut unumgänglich ist, sind unsere Abdichtmanschetten die rich-
tige Lösung. Mit variablen Durchmessern und verschiedenen Schrumpfschlauchlängen schützen Sie Ihr Dach zuverlässig vor Feuchtigkeit. Auch bei unseren Manschetten bieten wir Ihnen eine Auswahl an unterschiedlichen Materialien und Oberflächen. So bleibt Ihr Dach dicht!
Adhesives, extensions, seals - ABS Safety provides a complete package with everything you need. Being able to offer you a harmo- nious installation package is not just a question of service but the basis for a comprehensive safety concept. Even the most sophisti- cated anchorage device will fail to give you adequate protection, if it is not correctly installed on the substructure.
Another important fall protection topic is the impermeability of your roof surface. Whenever you have no choice but to open up your roof membrane, our sealant collars offer you the perfect solu- tion. They are available in a number of different diameters - with various shrink tubing lengths - and provide reliable protection against damp. Our collars also come in a selection of different ma- terials and finishes. Guaranteed to keep your roof sealed up!