Page 106 - Absturzsicherung Produktliste ABS Safety
P. 106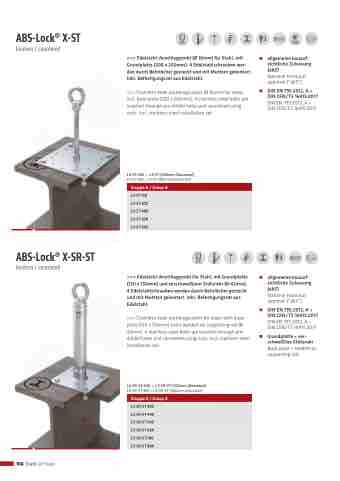 Seilsicherung & Schienensysteme
Lifeline & rail systems
Mit Seilsicherungssystemen von ABS Safety sichern Sie kontinu- ierlich Arbeits- und Verkehrswege, und das in nahezu unbegrenzter Länge. Mit voll überfahrbaren Systemen müssen sich Anwender oft nur einmal anschlagen und sind dann unterbrechungsfrei geschützt. So geht die Arbeit routiniert von der Hand. Der Clou: Mit der stufenlos von Hand einstellbaren ABS TI-FlexCurve führen Sie Edelstahlseile unserer Anschlageinrichtungen einfach um nahezu jedes Hindernis und überbrücken problemlos Firste und ähnliche Höhenunterschiede.
Nahezu jeder Anschlagpunkt von ABS Safety kann als Stütze für ein Seilsicherungssystem eingesetzt oder mit einem Stützrohr ent- sprechend aufgerüstet werden. Auf diese Weise können wir Ihnen Sicherungssysteme für fast jeden Untergrund anbieten. Und das mit allgemeiner bauaufsichtlicher Zulassung (abZ) des Deutschen Instituts für Bautechnik (DIBt). Selbstverständlich sind unsere Seilsicherungssysteme gemäß DIN EN 795 + CEN/TS 16415:2013 zertifiziert.
Ein Optimum an Leichtläufigkeit bieten unsere Schienensysteme. Aus Edelstahl gefertigt und auf Wunsch auch in V4A-Stahl erhält- lich, trotzt das ABS RailTrax nicht nur den härtesten Umfeldern, sondern sehen auch noch besonders hochwertig aus. Ein echtes Leichtgewicht ist das Schienensicherungssystem ABS AluTrax - es bietet Ihnen hohen Komfort und eine besonders einfache Montage.
Our ABS Safety lifeline systems ensure your work routes and accesses are secured at all times - across virtually any distance.
In most cases, your users only have to hook up once for inter- ruption-free protection whilst using one of our fully traversable systems. Now your users can simply get on with their work. Special feature: Use our manually adjustable ABS TI-FlexCurve device
to lead the stainless steel cables used in our anchorage systems around virtually any obstacle. This bracket can also be used to bridge the roof apex and compensate for other such differences in height.
Nearly all ABS Safety anchorage points can either be implement- ed straight into a lifeline system or accordingly upgraded using
a matching supporting tube. This means that we can offer you a range of safety systems to cope with virtually any type of subsur- face. Of course, our lifeline systems have been certified in accord- ance with EN 795 + CEN/TS 16415:2013 and come with national technical approval "abZ".
For maximum smoothness, try one of our rail systems. Manu- factured completely from stainless steel - with AISI 316 quality available upon request - our ABS RailTrax system not only braves the harshest of environments but also has that special high-qual- ity look. Our ABS AluTrax rail guard system is a real lightweight champion - it offers high convenience whilst being extremely easy to install.